AASHTO R18 (2016) Sections 6.2.1.5 and 6.2.1.5.1 include a new requirement—ISO/IEC 17025-certified calibration of measurement standards not manufactured by the calibrating laboratory.  The 2017 edition of R18 reportedly changes Section 6.2.1.5.1 to exclude only proprietary measurement standards from the ISO-certified calibration requirement.  The purpose of this requirement is to build confidence into test results because test results are used to make important and potentially costly decisions.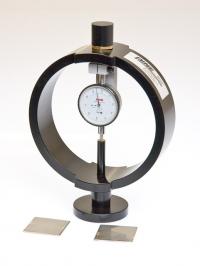 Pine has manufactured and recertified calibration tools (measurement standards) for Pine gyratory compactors for the 23 years Pine has been making gyratory compactors.  You may own one or more of the following Pine calibration tools.
AFGCLR05C:  5,000 lb. Proving Ring (AFGC125X, AFG1, and AFG2 force)
AFG123:  "1-2-3" Height Blocks (AFGC125X, AFG1, and AFG2 height)
AFGBA04:  Height Tube (AFGB1 height)
AFGBA06:  Load Cell and Meter  (AFGB1 pressure)
AFLS1 "RAM"  with AFLSC01 Calibration Tube:   (internal angle on all machines)
The AASHTO R18 changes mean the tools listed above, measurement standards in R18 terminology, must be calibrated by an ISO/IEC 17025-certified laboratory if they are used to calibrate and issue a certificate of calibration for a gyratory compactor in a laboratory seeking AASHTO accreditation.  An AFGBA06 calibrated on or after April 13, 2017 must comply with this requirement.  Other items on the list, except the AFLS1/AFLSC01, calibrated on or after January 1, 2018 must comply with this requirement.
The calibration tools used by Pine's Field Service Technicians will meet these requirements.  Pine's certificates of standardization will meet AASHTO requirements in an accreditation audit.
Pine currently makes ISO 17025-certified calibration of the Pine AFGBA06 Load Cell and Meter available.  ISO 17025-certified calibration of the other calibration tools will be provided by Pine when the requirement is implemented.
Pine recommends that you determine how these specification changes will affect you.  The new requirements will be enforced by auditors in AASHTO accreditation audits.  Additionally, large buyers of asphalt mix may implement these requirements in a myriad of ways.
Does your laboratory require AASHTO accreditation?
If your compactor is calibrated annually by someone else and you are only required to verify calibration periodically, do your calibration tools need ISO/IEC 17025-certified calibration?
Are there other items in your laboratory affected by these R18 changes?
Will some of your customers implement these new R18 requirements differently?