Well, the start of 2020 has rocked many worlds.  The COVID19 pandemic swept over the world causing companies to immediately press pause.  For many, the loss of jobs, business reductions, and health concerns have had devastating impacts.  We have all been impacted in some manner.  That sums up the media-dominated bad news.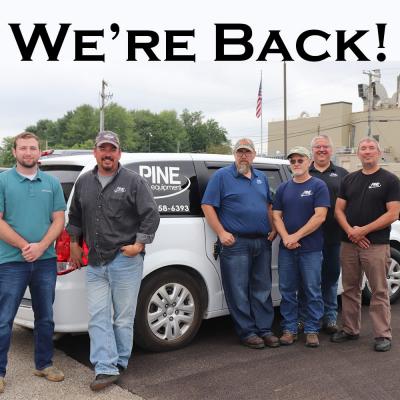 The good news is that it appears we've finally turned the corner – as a world, a country, and as a company. Some may view it as a fresh start. The "reset" has occurred. We are energized, recharged, and eager to get back to our lives; our purpose. Perhaps we return with a renewed appreciation for life; for customers who need technical support; for problems to be solved. Whichever the case, we want to let you know that WE'RE BACK! Yes, your trusted team at Pine Test Equipment is back in the saddle. The travel restrictions have been lifted and we're going back on the road May 18. We've developed new protocol for the safety of our Field Technicians and you, our customer. And, as of May 11, we are back to manufacturing your "Made in the USA" asphalt testing equipment in our Pennsylvania facility.
Will business and service look differently post COVID19? The answer? Probably, yes. Winter has historically been Pine Test's busiest. Road construction in much of the United States slows making it the ideal time for scheduled equipment maintenance and calibration. However, this year, the COVID disruption has caused 1.5 months of service cancellations and delays. It's a problematic pickle that we find ourselves in – to say it nicely. In the coming months, we sympathetically request a bit of grace in rescheduling your appointments. We plan to pick up where we left off in our schedule, addressing needs by calibration due date. As you have experienced in the past, our team will do whatever is in our power to deliver the exceptional service that is expected. If you haven't heard from us already, give us a call (724) 458-6393.
Thank you for your understanding. We look forward to seeing you very soon.