Did you bend the lift screw on your GB1?  Take heart.  You're not alone.
A Common Problem on AFGB1's:  Bent Lift Screws
The Pine AFGB1 is designed with a screw system to lift the gyratory head off the compaction chamber and rotate it out of the way.  Unfortunately, the lift screw that forms the cornerstone of this system frequently requires replacement because it got bent.  Bent lift screws 100% preventable.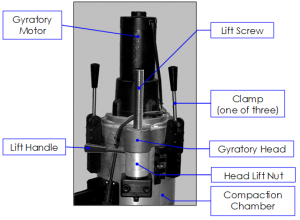 How Lift Screws Get Bent
There are only two appropriate positions in which to leave the gyratory head—"up and away" or "down and clamped (Figure 2).  The problem occurs when the gyratory head is "up" but not "away" or "down" but not "clamped" and the ram is run up.  As the ram moves upward, load is applied to the bottom of the gyratory head, which is only supported by the lift screw when the head is not clamped to the compaction chamber.  This leads to a bent lift screw, which must be replaced.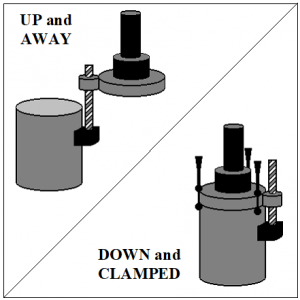 Fixing a Bent Lift Screw
Acquire and install a new Lift Screw Kit, which includes a lift screw and the associated hardware. (Pine Part Number ACGBG18K).
What does Pine Recommend?
Only leave the gyratory head in the "Up and Away" or "Down and Clamped" positions.
Want to Learn More?
Visit our website or speak with one our specialists at 724-458-6393.
Follow us on LinkedIn and Twitter and subscribe to our YouTube channel.