"I'm hearing a grinding sound during compaction.  It seems to be coming from the ram foot / base plate area.  I have a Pine AFG2 gyratory compactor.  Any idea what might be causing that?"
A Potential Cause
A grinding noise during compaction coming from the ram foot area on an AFG2 indicates improper lubrication of the ram foot.
What Does Pine Recommend?
To address the problem immediately and on a daily basis …
Clean the ram foot surface meticulously with WD-40. Then, apply a very thin coat of Pine's anti-seize lubricant (Pine Part # CLGSM0S2T) to the surface of the ram foot in the area between the mounting screws and the outside edge of the foot (the red shaded area in the picture below).  An insufficient amount of lubricant leads to premature wear of the ram foot.  An excessive amount of lubricant collects debris that acts as an abrasive and causes unnecessary wear to the ram foot.
Clean the base plate and the bottom of the mold to remove lubricant, asphalt debris, and binder.
Contact Technical Support at 724-458-6393 or jdouds@pineinst.com of the problem persists.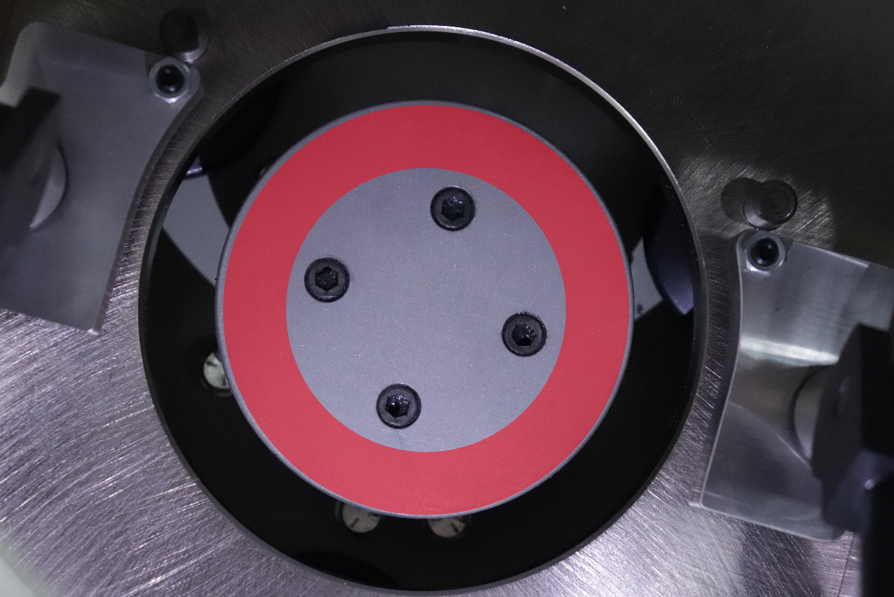 Want to Learn More?
Visit our website or speak with one our specialists at 724-458-6393.
Follow us on LinkedIn and Twitter and subscribe to our YouTube channel.