"I need to get the data off of my GB1 gyratory compactor.  Can you help me?"
Of course we can help you.
We cover a collection of related topics for the Pine GB1 Superpave gyratory compactor in a series of blogs.
The first article published covers the basics of GB1 data files—storage, types, naming convention, and on-screen viewing.
The second blog addresses saving Pine GB1 files.
This article describes printing  Pine GB1 data.
Note:  Several models of this compactor exist that function differently.  The information presented below applies to GB1's with the touchscreen control panel (serial number 5885 and greater).
PCL5-Printer Required
Only a PCL5-compatible printer will work with a GB1.  Industrial computers run gyratory compactors and they do not have the Windows drivers required to use any printer you desire.   Contact Pine for a printer.
The Wide Report
A GB1 only prints a Wide Report, which presents height by gyration data in tabular format.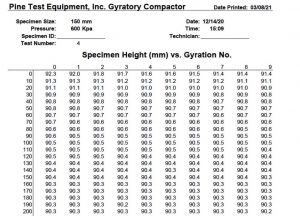 Automatic Printing
A GB1 automatically prints a Wide Report upon completion of compaction of a specimen if the auto-print feature is turned on and an appropriate printer is connected to the machine and turned on.
To turn on the Auto Print Wide Report feature …
Press the Setup button in the Main Menu.
Press the Auto Print Wide Report button so that the indicator light is lit.
Manual Printing
To manually print data reports directly from a GB1 …
Press the Results button in the Main Menu.
Press the View Results> button on the Test Results screen until the desired file is displayed.
Ensure the printer is connected and turned on.
Press the Print Wide Report button.
To print a report from a computer …
Save the report to a USB stick as described in the last blog.
Remove the USB stick from the GB1 and insert it in the computer.
Open the desired file.
Print the file.
Want to Learn More?
Previous articles described the basics of GB1 data files and how to save them to a USB stick.
This blog explained printing Pine GB1 data.
Do you have a Pine G2?  Check out our parallel blog series on Pine G2 data–the basics, printing, and saving.
Visit our website or speak with one of our specialists at 724-458-6393.
Follow us on LinkedIn and Twitter and subscribe to our YouTube channel.