"The DOT now requires that we print the compaction data directly from the gyro.  We use a 125X.  Can you help me?"
Yes, we can help you.
We provide an explanation of related topics for a Pine 125X Superpave gyratory compactor with upgraded controls in a 3-part blog series.  Printouts and screenshots shown are from revision V18.08a of the control software.
This first article discusses the basics of Pine 125X data files—the data collected, 125X file capacity, file types, file naming convention, and exporting options.
The second blog presents saving Pine 125X data files to a USB flash drive or a PC.
The third publication describes printing Pine 125X data files.
Data Collected
The Pine 125X with upgraded controls saves the height and compaction pressure for each gyration.
File Capacity
The Pine 125X with upgraded controls stores data for 20 tests.  When the 21st specimen is compacted, the system overwrites the data for the 1st specimen.
File Types
The Pine 125X with upgraded controls  saves two types of files to a USB flash drive–.DAT and .TXT.
Use the .DAT to upload the height data into a mix design workbook.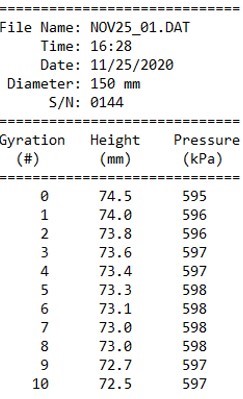 The .TXT files are reports for printing.  Two report formats exist.  The Wide-Brief Report format provides only height by gyration (the first report shown below) while the Wide-Full Report Format presents height and pressure per gyration (the second report shown below).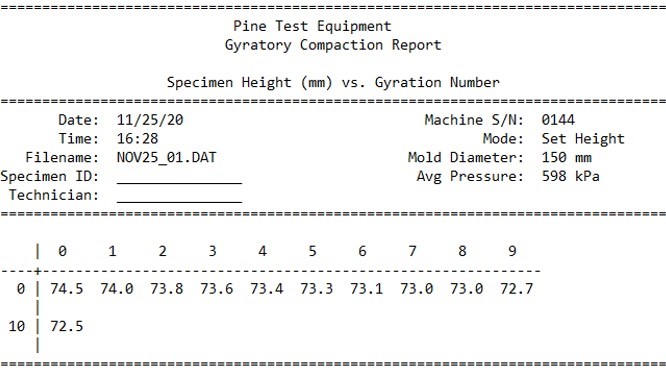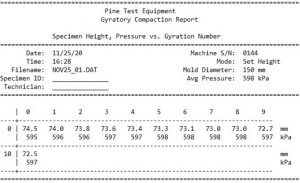 File Naming Convention
The Pine 125X with upgraded controls names files using the date and time compaction of the specimen begins as well as the sequence number of the specimen compacted for the day.
Example:  On July 14, 2021, a technician began compacting the 4th specimen of the day at 9:46 AM.
On the 125X, the file is named JUL14_04 9:46.
The .DAT file saved to a USB flash drive is named JUL14_04.
The .TXT file saved to a USB flash drive is RPT_JUL14_04 regardless of the report format.
Data Exporting Options
The Pine 125X with upgraded controls has a USB data port, a USB printer port, and a serial port.  The data port saves test and calibration data to a USB flash drive and allows for the upload of calibration data from a USB flash drive to the machine.  The printer port sends data directly to a printer.  The serial port provides a direct connection to a PC for the transfer of height data.
Want to Learn More?
See the blogs on saving and printing from a 125X with upgraded controls.
Do you have a Pine 125X with original controls?  Learn about the upgraded controls package available from Pine.
Read similar collections of articles on a G2, a GB1, and a G1.
Visit our website or speak with one of our specialists at 724-458-6393.
Follow us on LinkedIn and Twitter and subscribe to our YouTube channel.